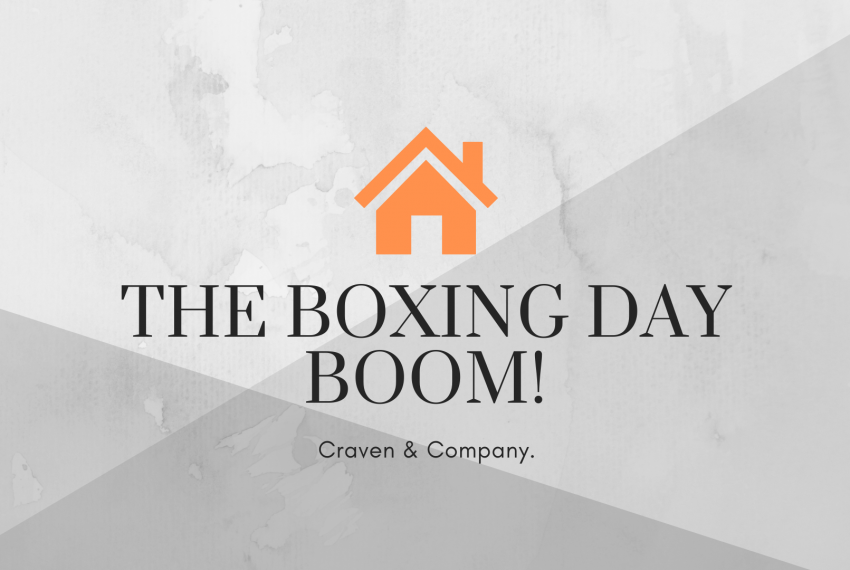 Preparing for the Boxing Day Boom!
It is notoriously known that boxing day is home to the "boxing day boom", a time in which all estate agents portals receive the highest surge in traffic throughout the year. From Rightmove to Zoopla, the demand for these platforms skyrocket to numbers unseen through the rest of the year.
To put it into perspective, Rightmove have previously announced that from the dates of 2nd Jan to the 8th Jan, they achieved a 30% increase of traffic compared to the previously.
This leaves estate agents in a great spot with a reported 11% increase in enquiries during this phase.
Should I sell my house during the boxing day boom?
It can be self-explanatory, the real estate market achieves its greatest customer traction with more people looking for properties through an array of portals, Google, Rightmove and Zoopla to name a few.
Having your home listed with a team like us here at Craven and Company, our pro-active marketing strategies including optimising your listings across these portals allows you to reap the benefits of this spike in traffic.
Having your home listed in the prime position ahead of the boom can often see you resulting in a sale as you desire.
Being ahead of the game and seeking professional advice and support to get your property correctly valuated and listed can set you up for success during this heightened time of year.
Don't hesitate to list your property.
Although you may be hesitant to list your property. Reports show that a 61% of new home searches were conducted in the month of December 2020 compared to the previous year. This is yet continuing to scale and listing your home, flat or studio ahead of boxing day could just as simply help leave you with the result you want.
Is there much competition during the boxing day boom?
When selling your home, there are often hurdles to tackle. One obvious obstacle is the competition on the market.
Through lockdown, competition for purchasing a house has risen, yet selling a property has been far easier.
With this in mind, in coordination with the increased demand of the boxing day boom. Competition for selling your house could be high. Leaving you in a situation that is harder to sell your home.
How can we help tackle the competition?
Our industry-leading team of experts have years of knowledge and experience when it comes to valuations, lettings, selling and buying a property.
Offering a highly accurate valuation to help you achieve great results alongside our continuous marketing efforts from social media, website publications and portal listings. Our team have tailor-made packages perfect for any stage of your journey.
Take a look at what some of our clients have to say.
Susan Whitehead
2021-08-27
If i could give them 100 stars i would. Hannah went above and beyond to help me and my family at a time when we needed it the most. If anyone is looking to move i would urge you to contact Hannah, she is a star. Thanks again and thanks to the rest of the Craven team!
Great staff, I dealt with Hannah and more recently Gina who were excellent throughout the process. Hannah was very helpful right from our first meeting and really made the process as straightforward for me and my family. I would highly recommend this estate agency to anyone looking to move home.
Tatiana Sudakova
2021-07-09
I advise everyone who wants to sell or buy a home or rent a home to contact this company
sold, what a great choice choosing craven properties, to sell my home, the sales agent Ben Elgar was 100% a great sales man, he kept me informed all the way thru the sale of my home keeping me in the loop all the way. I would totally recommend choosing this company to sell my next home.
Straight forward renting, lovely staff, everything sorted on request.
Vermal Fernando
2021-07-03
I had an excellent service from Craven and in particular Ben. He has very thorough knowledge of the local market which helped me to achieve the maximum potential in my house sale. He was always punctual and was extremely easy to reach whenever I require even during the busy time. Throughout the sale process he updated me regularly and conveyed my updates to the buyer too. That really helped me to pay attention on important tasks on my side and to escalate to conveyancing solicitors where require. Highly recommend Ben and Craven if you would like a stress-free house sale.
Dr. Yogesh Kuba
2021-07-01
Very efficient
Martin Maddocks
2021-06-14
Ben and his team helped facilitate the cash purchase of my property. The process was fast and hassle free in a period in the housing market that has been hard work. I couldn't recommend Craven and Ben more highly.