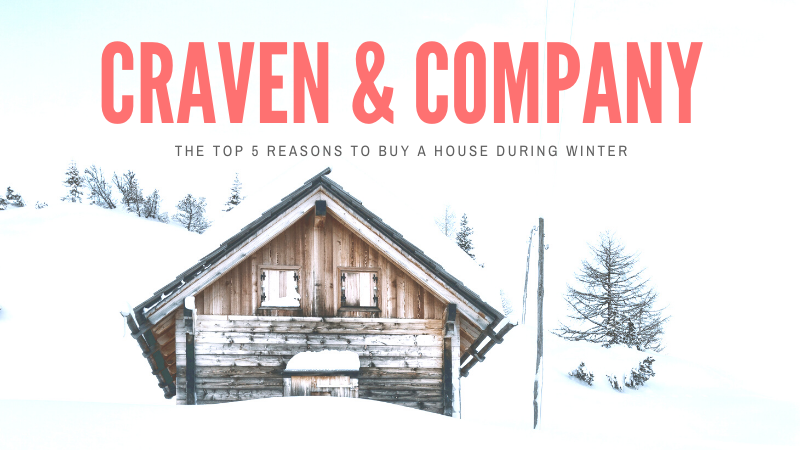 The top 5 reasons to Buy a house during the winter
With typical knowledge on property buying & selling, it is fair to say that the typical prime seasons to commit to house hunting is during the spring and summer. When the sun is shining people are more inclined to go out on the search ready to find their new home for the cosy winter afternoons. For people wanting to sell a house, what's better than the sun beaming down on a lovely home and garden rather than being covered from top to bottom in snow, rain or sludge? That's right, nothing. From a sellers point of view, it's an ideal time to jump on the bandwagon and sell your property. Here at Craven & Company, we thought we would give you a quick and convenient top 5 reasons to buy a house during the winter.
Cheaper houses during the winter season
The simplest way to put why it's a great idea to buy a property during the winter is that during winter, there are fewer buyers who are searching and home hunting. The supply and demand take a spin compared to the summer and in result, more homes are available compared to people wanting to purchase.
Do you know what that means?
Homes drop in price, if you are interested in buying then this is your prime time to snag up an incredible deal. The peak real estate season is over and homes are priced mainly to just sell and move on. With less interest in homes and fewer buyers, fewer offers are made and this results in more room for negotiation.
Finding your dream home for the cheapest price possible is enough to make anyone want to look for a property during the winter, take a look at some of the stunning examples we have available.
Motivated & adaptive sellers
Since the demand for selling homes is far more than the number of people wanting to purchase one when it comes to finalising your offers. It's found that the sellers are typically far more lenient and adaptive to their original asking price along with extras you may ask for.
When it comes to purchasing your property, do you want the best deal you can? Of course.
This is why it's a solid and great reason to buy a property now, in the winter.
Negotiate the price, find your ideal home, less competition between buyers & great results.
Attentive estate agents
Here at Craven & company, we are always 110% attentive to all clients, sellers & buyers, whether that means fighting for the best price on a property or our experts giving the best advice when it comes to the listing or searches for your next home.
Not all agents are the same.
Some take a more in and out the door approach.
Rest assured our excellent professionals are more than happy to help secure your property, in the winter this is no exception. Get in touch with us and from the offset our attentive team will be happy to help!
Less competition among buyers
What is better than having fewer people to compete with? Nothing.
When you look at finding your next dream home, buying a home in the winter season is ideal as spoken briefly about earlier, with less people interested in a new home the space opens for negotiation is a prime feature to take advantage off. People aren't always wanting to go and do property viewings during the poor weather, add some sun into the equation and people would jump all over the chance to do some home searching.
The chance to run into multiple properties offers on one home is far less, the offer you place will have far more of an impact on the seller. Link yourself with a great estate agent and you will be cooking on gas in no time (quite literally, well if your NEW home has a gas stove, otherwise it's induction or electric for you when we get you moved in).
See the property for its true colours
With the cold weather bringing out each imperfection, the snow, sludge and cold walls are all on show. You get a real great insight into how your potential new home will be able to hold up.
Fingers crossed nothing is an issue however if you do see any small errors, such as damp, swelling or leaks. The prime time to take action is now. With the seller far more adaptive you never know, this might be the prime time for them to fix up the property to secure a sale at their own expense and not yours.
Put on your jacket, get those boots on and brave the weather.
Come down to Craven & company and let's find your next home no matter it's in the winter.
Now you get the idea, don't act too late, its a great time to check out our online mortgage calculator, get an idea of what home you might be after and finalise it with a quick call to get your next home adventure on its way.